The Plight Of The Twitter Bot
Writing has taken me on a fantastic journey and one of those places it Twitter. There I can choose a group of like-minded writerly people to talk with and share ideas. The #writingcommunity is full of wonderful people to hang out with online.
But there are always the negatives, and while I don't dwell on negative, this is a subject worth discussing. They are the fake twitter accounts of scammers, usually initiated by bot programs. So I'm going to touch on some of what a Twitter Bot is and what to do about them.
What is a twitter bot?
People will use fake twitter accounts and programs to 'follow' unsuspecting people on twitter. Once they are followed back they will either initiate a conversation by DM (Direct Message) or by tweets.
What do they do?
They will tweet asking you to contact them or send them a DM or even send other information like emails. They may even tweet you a link to follow.
If they DM they might do the above or try to use conversation to lure you into a sense of 'friendship' or 'romance' or 'pity.'
DM conversations might be with a human or with a very convincing AI program that will continuously leed you until you give them the information they want.
What do they want?
Money and information. They will offer prizes, rewards, reimbursements, winnings or shared winnings, and even inheritance.
Simply put, nobody gives money away for nothing. Usually, it's… send me $$ so I can send you more $$$$ back. They will never send you money.
If they're after information it is possible it is for identity theft or to hack your computer or bank accounts.
Bots are not harmless. They use tactics to prey on people who are unable by mental or emotional strength, awareness, or health to turn away.
What can I do about them?
Block. Or, block and report as a fake account, spammer or someone sending harmful links. Just blocking doesn't stop that account. Some would argue that reporting them doesn't do any good, they have hundreds of accounts and can just create more. That is true, however, I personally feel that if I spot a bot/spammer account and I'm able to report that account then perhaps it saves someone who isn't able to see the trap from becoming a victim. I'll never know, but that's fine.
What does a bot account look like? How do I know it's a bot or scammer?
There are a few things to look for. First, are insane typo's in the user profile.
For example, today's lovely bot had a funny one that inspired today's word prompt and this post. "Because I'm handsome kind ..gentle… and plight." I know the user meant polite, but… since I mostly follow writers, readers, and artists, they'd know the difference. Second, is the lock symbol beside the name. That could mean they are a bot/scammer or someone who is careful about who they follow. So I'll look at their profile.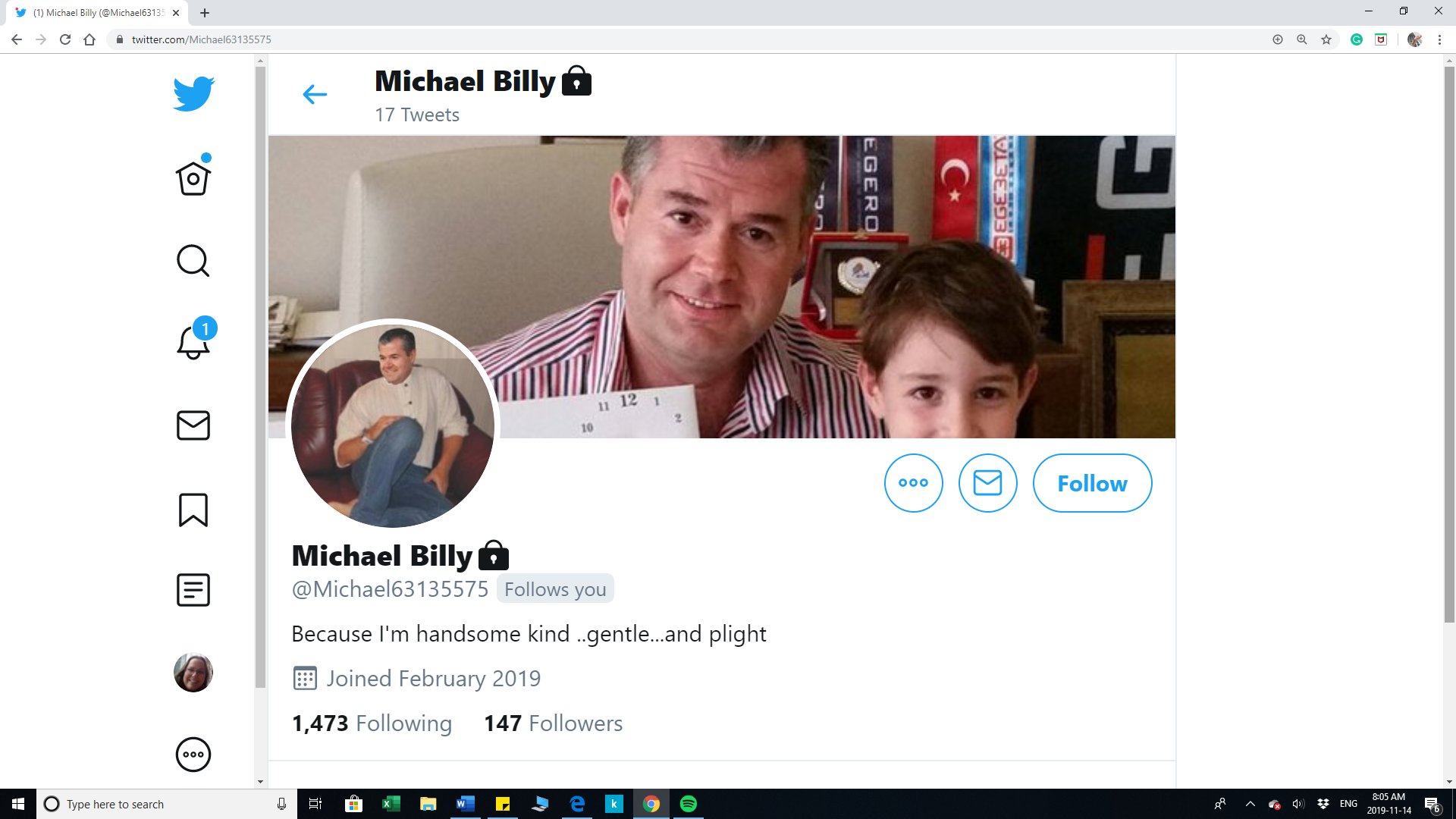 The next thing I look at is the Following Vs. Followers numbers. If there is a larger following by a significant amount respectively, it's likely a bot. (The opposite is usually someone famous or an account that doesn't follow but has followers)
Now, a lot of people sign up for twitter not knowing a thing about bots and scammers. Twitter automatically generates a twitter handle with a string of numbers. Bot/scammers rarely change this info. Humans do. Now some people do keep the numbers, which is why checking their profile and tweet activity is a good idea before following back.
The photos used are often a dead give away. They are usually stolen from other accounts, people or stock photos. Sometimes they match sometimes they don't. After a while, you get used to seeing the same stolen images for different accounts and don't need to even check a profile to know it's a bot.
The name can often be the top clue. Keanu Reeves or any prince of any country are not likely following you. Sorry. If they are famous or in a corporate position of power, ie Bezos, Mark Zuckerberg, Sheryl Sandberg, they're not real either.
The Sheryl Sandberg account is a classic, money scam. Note the lock symbol, ZERO Tweets, the long string of numbers after the name and the much higher following number vs. followers.
Checking their tweets and tweets&replies is a good way to see if they are real or not. Often with a scammer or bot, they will have the same message. "Thank you @name for following me" Or something like that. Or "Hello dear," "Please DM me" or "How are you?" It will be very obvious because it will be repeated in their tweets or replies.
Sometimes they have no tweets or replies but have been up for months… Very likely a bot.
Still not sure a bot has asked to be followed?
There are some things to do to clarify.
Google their twitter handle.
Reverse search their profile picture (It will often be listed as used by scammers)
Follow back and see if they INSTANT tweet or DM you. At this point, they make it clear by the 'probing' questions or the message is slightly-to-extraordinarily creepy.
What to do if a scammer or bot sends you a DM or Tweet?
You have options.
Don't respond and instant report then block.
Respond but don't give them any information.
Fish for clues that pin them as a bot and report it. (In a DM you can report the message.) I have done this and even given them my "Contact" information. By that I gave them the contact email and name of the police internet fraud department. (Funny story because they contacted the police several times asking for my bank information.)
Ignore them. (I tend to do this)
Once you know it's a bot or you are sure, report to twitter then block them.
So how do bots/scammers have so many followers?
A lot of people (including myself) have or will follow a bot. Sometimes their profiles are convincing, sometimes I click, follow by mistake. Some people will follow any and every person that follows them for numbers.
I do have a number of bots following me(Because twitter needs a better way for us to make them not follow.) I do my best not to follow them back and I report the ones I notice and have time to look into. Usually, I'll report and block the more tricky scammers, the ones that aren't obvious bots.
These are just some ways to identify a fake, bot, scammer or spam account. There are other tell-tale signs. If you see one and have the time, report them then block.
Thanks for taking the time to read this post.
Happy writing and twittering.
-Sheryl
Today's daily prompt is Plight